The Dreams
SCULPTURE / 2005
Bottles, jars, boxes; wrapped up, tied up, falling loose. Inquisitive birds here and there. What's behind the picket fence? An angry sky or folded canvas? What's in the barn? What is inside?
In this body of work I tackle my dreams. While much of my work is expressed on a light, more ethereal background, this work is done almost entirely against a dark, yet rich, earthy ground. The light in my other works typify my tendency to ponder more than to experience. But here the dark encaustic surface has a more-grounded presence (yet still not "real"). Layered in numerous glazes in oils and burned into the wax, there is a mysterious, dreamlike quality to the wall works. And here the real sense of dreams, in the installation, "Recurring Dream" where sleeping heads float across a field of the evening darkness.
Dreams, for me, are interconnected with my waking state of "reality." They are bound together with the images of life interconnected with hopes, fears, and imaginations of the persistent overactive mental state that is unavoidably real to an artist. The subjects are not all the result of sleeping dreams, but they characterize a dreamlike state that exists when one is creating. The dramatic lights and darks (chiarosuro) typical in the artist's dream state bring an energy and seriousness to this work, which has, as a result of the palette, an almost old-world feeling.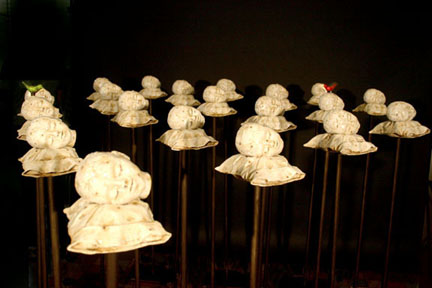 "Recurring Dream Installation " (Series of 24 of which all but 6 are SOLD)
Mixed Media
2005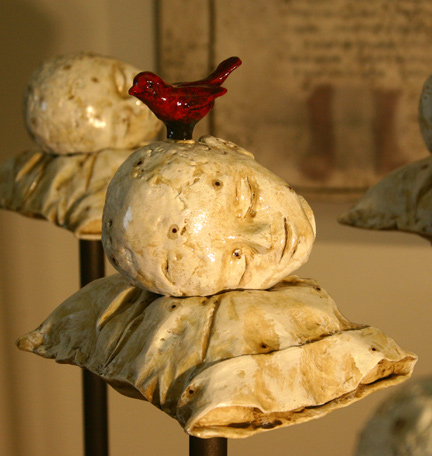 "Detail of Recurring Dream Installation " SOLD
Mixed Media
2005

"Woman with Box of Bottles" SOLD
Resin, Calcium Carbonate, Oils
27 "X 9 " X 6"
2006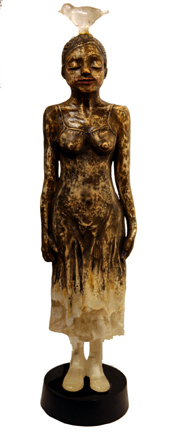 "Woman with a Bird " SOLD
Resin, Calcium Carbonate, Oils
27 "X 7" X 6"
2006