JUDITH KINDLER
Evidence
Mixed Media / 2013
It occurred to me when I embarked on this work, that I have always collect- ed objects. These items would take me back to an earlier time in my life or to a historic period that had intrigued me and somehow seemed elusive and haunt- ing in a curious way. But the real inspiration started the day I found this pair of stilleto nurse shoes in a vintage clothing shop. Of course I had to have them.
Perhaps it was as a result of watching WWII movies when I was a child and be- ing drawn to the nurse's crisp white aprons with their deep red crosses or the old images of sailors with beautiful Asian women. After all, I had straight black hair for most of my life, a look typical of those exotic women who fascinated me.
I had thought I might become a nun around the age of 18, as I was drawn to the cloistered world that seemed so mysterious. I loved their black habits. The col- lecction of Santos' over the years became a passion So I have collected objects that have reminded me of, or were remnants, or evidence of a moment in my life.
In so many ways it can be the common objects as well as the extraordinary ones that define a moment in time. They give the suggestion of reality to otherwise lifeless images of current or past histories. Perhaps then it is the idea of evidence that confirms and gives meaning to my composed mixed media stories.
In this work I've obsessed over the collection as there is a pure joy in the hunt for evidence. I've drawn inspiration from these objects as remnants, wheth- er they become the photographic documentation or are directly imbedded in a work. I play with the idea of "evidence" in a sometime sinister and seductive way, implying much more than the objects engaged in the works could really ever portray on their own. Through incorporating them with layers of my doc- umentations, my studio-staged photographs along with drawing and painting I have created composite or mixed media narratives. The combination of imag- ery with physical evidence ultimately arouses curiosity and portends a mystery only to be deciphered by the viewer and filtered by his or her own associations.
In doing the work I found that I thoroughly enjoyed this process of storytelling and the deliberate use of sinister implications even though often couched in humor. Hidden in each work are nuances that are self-ref- erential and therefore known only to me and perhaps those in my inner circle.
Technically, the work has been extremely laborious. It begins with photography and the hunt for the right objects to connect to a story. It continues with histor- ic research and the composing of images to create a single new digital image. I employ an elaborate process of breaking down the final image into a graphic texture that implies something that is not exactly in the present. Using custom built panels and molds to cast resin artifact chambers I mount, draw, paint and apply multiple pours or castings of resin over the completed work, embedding objects. I encase it all forever, permanently connecting the story to the evidence.



Diplomatic Relations, 2013, Mixed Media on 3 panels, Large panel: 48" X 36", 2 small panels 13" X 7" each
Don't Play with Fire, 2013, Mixed Media on panel, 52" X 42"
Discovery (front and back views), 2013, Mixed Media on 16 sides/boxed panels, 88" X 36" X 21"
Objectify, 2013, Mixed Media, 12" X 8" X 7"
Tequila Made Me Do It, 2013, Mixed Media on 2 panel, 48" X 82"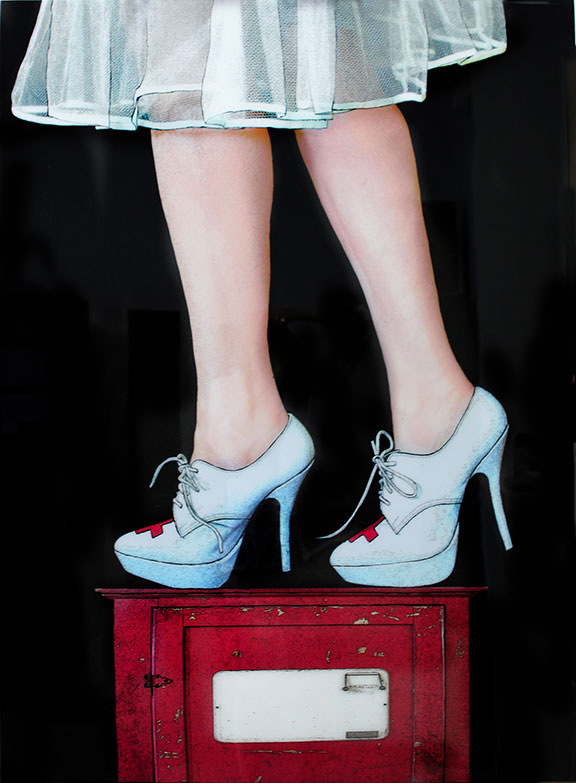 Jump, 2013, Mixed Media on panel, 48" X 36"
Stilettos, 2013, Mixed Media on panel, 9" X 7" X 7" SOLD
The Nurse, 2013, Mixed Media on 3 panels, 57.5" X 63.5"
Playtime, 2013, Mixed Media on panel, 42" X 49" comes with Medical Sack evidence below
Playtime evidence
Help is on the Way!, 2013, Mixed Media on panel, 24" X 24" SOLD
Help is on the Way with base, 2013, Mixed Media, 9" X 8" X 14" SOLD
Burn Out, 2013, Mixed Media on panel with attached shelf and Vintage clycle, 38.5" X 24" X 8"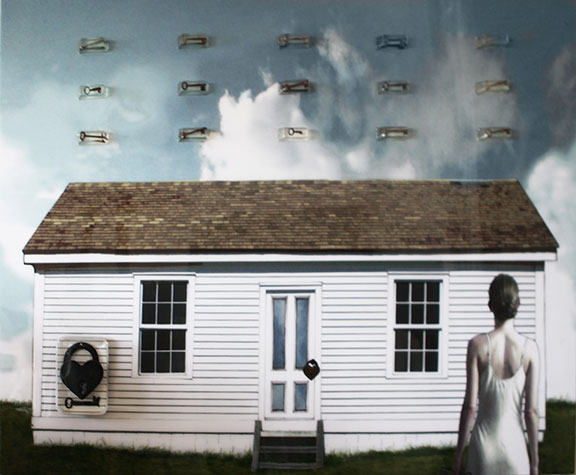 Locked, 2013, Mixed Media on panel, 48" X 60" SOLD
Wind I SOLD and II, 2013, Mixed Media on panel, 36" X 12" each (sold individually)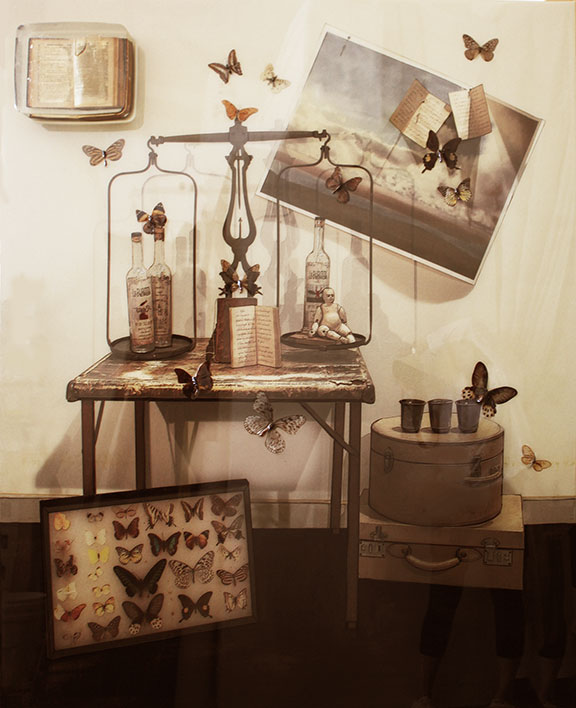 Dreams of Flight, 2013, Mixed Media on panel, 60" X 48"
Little Fluffy, 2013, Mixed Media on 3 connected panels, 12" X 24"
Unwinding Baby, 2013, Mixed Media on 3 connected panels, 12" X 24"
Evidence Installation, 2013, Mixed Media on 25 panels, 12" X 12" each (sold individually)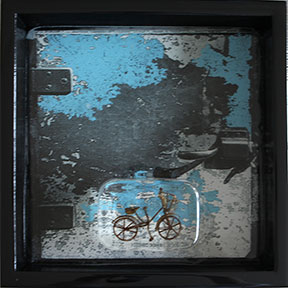 All Dressed Up, The Bike
Bowling Pins, Composed
Fluffy, Fly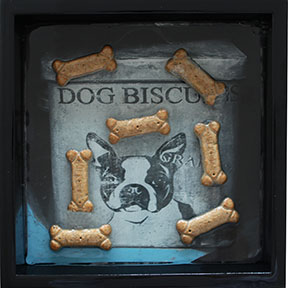 Garden, Dog Biscuits
I Never WasSOLD, Mean Nun
I'm So Pretty, It's the Law SOLD
Time, Little Houses
LustSOLD, Me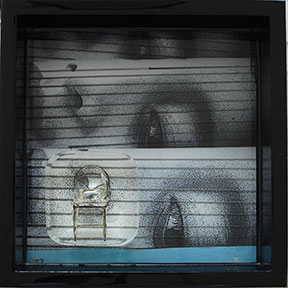 The MistakeSOLD, No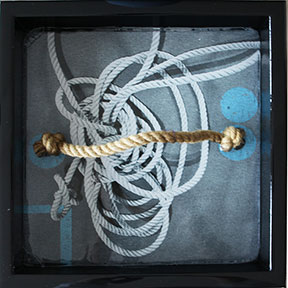 Rope, Royal Baby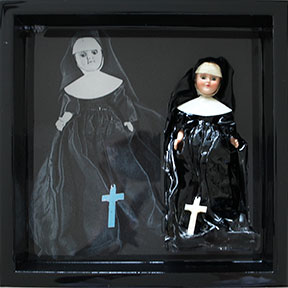 To Nun or Not to Be, The Package
You, What
To Exit

View at angle of Evidence panels to show the dimensionality of the work.