Seen / Unseen
. MIXED MEDIA / 2011
Synonyms: Concealed, curtained, imagined, invisible, obscure, shrouded, undiscovered, unobserved, lurking, veiled. Antonyms: seen, visible, perceived, unveiled.
Hide and Seek. It's a game. It's life. In this series of work I study our cultural processes of hiding/revealing that cause us either to gain value or that diminish our value. How do we choose what to show the world? What to conceal from it? Can we afford the scrutiny?
Some of the works (fully finished) are placed under drapes hardened by resin. Others are empty shells, like the walking-yet-frozen-in-place pants. There is laundry hanging on ladders, in bags. They refer to the title, simply enough: "Don't Hang Out Your Dirty Laundry." The idea is that we see what we want to see in others, be it good or bad. Often, though, we see only the bad; the dirty laundry. Conversely, we show what we want to reveal about ourselves and try to bag up (hide) our own dirty laundry. I want us all to think about that which is unseen even as we look. What is illusion? What is hidden? Other works in the collection allude to subjects in a poetic play of gentleness versus that which is powerful.
View of selected work in the artist's studio, 2011, Mixed Media
"Unseen / Seen ", Diptych, 2011, Mixed Media, approximately 47" X 32" X 5" each
"Reveal", 2011, Mixed Media, 40" X 30" (SOLD)
"Standing Figure",, 2011, Mixed Media, approximately 80" X 40" X 5" SOLD
"Veiled I Installation", 2011, Mixed Media, approximately 42" X 32" X 5" painting, 36" X 12" X 13" shelf + objects SOLD
"Veiled II Installation", 2011, Mixed Media, approximately 42" X 32" X 5" painting, 36" X 12" X 13" shelf + objects SOLD
"Don't Hang out Your Dirty Laundry I, II, and III", 2011, Mixed Media, approximately 76" X 20" each ALL are SOLD
"Empty Pants I, II, and III", 2011, Mixed Media, approximately 43" X 23" 12" each II and III are SOLD
"Dirty Laundry I, II, III and IV", Installation 2011, Mixed Media,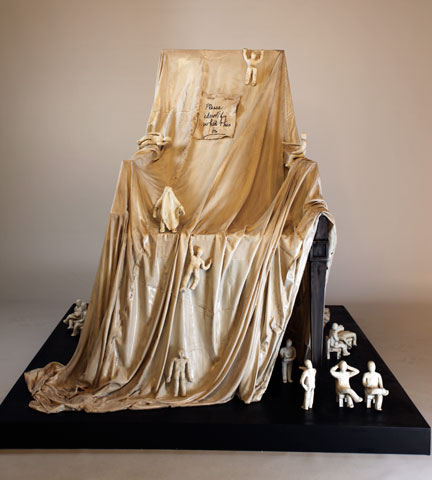 "Please Identify what this Is", Installation 2011, Mixed Media collaboration with Barbara Hyde Evans for the "Chair Project" SOLD
View of selected work in the artist's studio, 2011, Mixed Media
"Unaware of Beauty"
Mixed Media: Encaustic, Oils Paper on 2 Panels
60" X 96"
2011
"Unaware" SOLD
Mixed Media including Resin, Wood, Metal included 50" Pedestals and Base
65" X 13.5" X 10.5"
2011
"Mixed Messages"
Mixed Media: Encaustic, Oils Paper on Panel
36" X 48"
2011
"Getting to Know You" SOLD
Mixed Media including Resin, Wood, included 50" Pedestals and Base
74" X 26.5" X 9"
2011
"Shadow" SOLD
Mixed Media: Encaustic, Oils Paper on Panel
36" X 24"
2011
"Eggs and Birds" SOLD
Mixed Media: Encaustic, Oils Paper on 9 Panels
Each panel 8" X 8"
2011
"Expectations"
Mixed Media including Resin, Wood, included Pedestal
58" X 24" X 18"
2011
"Expectations" close up
Mixed Media including Resin, Wood, included Pedestal
58" X 24" X 18"
2011
"Faces in Brush "
Mixed Media including Resin, Encaustic, Photography, Oils
28" X 24"
2011
"Hiding From View"
Mixed Media: Encaustic, Oils Paper on Panel
48" X 36"
2011
"Invisible"
Mixed Media: Encaustic, Oils Paper on Panel
36" X 36"
2010
"It Seems Like you Really See Me" SOLD
Mixed Media including Resin, Wood, included 50" Pedestals and Base
60" X 17.5" X 9"
2011
"Observing Nature"
Mixed Media including Resin, Wood, metal
28" X 18" X 12 "
2011
"Unseen Presence" SOLD (and "Observing Nature" on pedestal)
Mixed Media
125" X 16" X 4"
2011
"Observing Nothing"
Mixed Media including Resin, Wood, metal and includes pedestals and Base
59" X 36" X 22.5"
2011
"Observing Nothing" Detail
Mixed Media including Resin, Wood, metal and includes pedestals and Base
59" X 36" X 22.5"
2011
"Risk Installation" (on wall) with "Blind Aspirations" (on floor)
Mixed Media
See individual works for size
2011
"Risk Installation"
Mixed Media including resin, cloth, metal
26" X 48" X 4"
2011
"Blind Aspirations" detail
Mixed Media including resin, metal, wood pedestals and base
58" X 14" X 14"
2011
"Red Bird and Cage and Two Women"
Mixed Media including Photography, Encaustic, oils on Panel
36" X 48"
2011
"Red Bird with Woman and Cage" SOLD
Mixed Media including Photography, Encaustic, oils on Panel
48" X 24"
2011
"Red Bird"
Mixed Media including Resin, Photography, Encaustic, oils on Panel
36" X 48"
2011
"Red Bird" detail
Mixed Media including Photography, Encaustic, oils on Panel
36" X 48 X approx 4.5 "
2011
"Red Bird and Cage" SOLD
Mixed Media including Photography, Encaustic, oils on 2 connected Panels
24" X 48"
2011