Archives > In This Issue > Home Improvement
Is it a chair ... or is it art?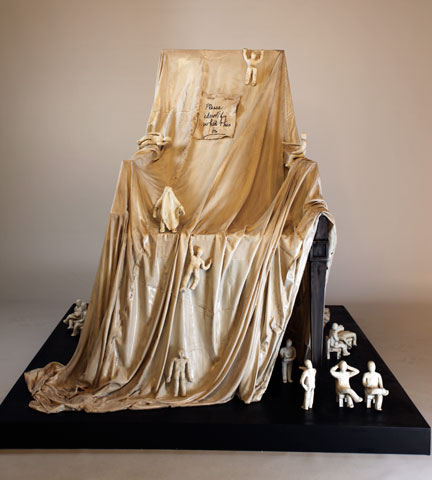 A chair turned into a sculpture by Seattle artist Judith Kindler and interior designer Barbara Hyde Evans. Photo courtesy of Judith Kindler.
By Katherine Luck
What happens when a mixed-media artist and an interior designer collaborate to create a one-of-a-kind chair? Will it become art, or will it still be something you can sit on?

That's the line of questioning that led to the Chair Project Group Show, a partnership between Seattle Design Center and Pratt Fine Arts Center that teamed up artists and designers to create unexpected versions of the everyday household item.

"The idea started for me a little more than a year ago, wondering how we could create a dialogue between the art world and the design world," said Craig Cross, marketing manager at Seattle Design Center. "For our industry, a chair is an iconic project. ... I was curious to see how many would come back looking like chairs."

Last fall, 10 local artists were matched with 10 interior designers, then given an identical chair to work on together. One team was formed by artist Judith Kindler and interior designer Barbara Hyde Evans. Though they had never met before the Chair Project, Evans was already a fan of Kindler's art.

"I was really excited to be involved with the process. I wanted to see Judith create her art. ... From an interior design standpoint, [her art] works in every room," said Evans.

"We [interior designers] use a lot of art in our homes. Getting a little more background about what is involved is terrific."

Kindler and Evans picked up their chair in September. "It's a very classic Baker chair. It's got great lines, great curves," said Evans.

"But it wasn't a finished chair, though — just a frame," added Kindler.

The two spent weeks working on the chair in Kindler's studio, located on Mercer Street just across from Seattle Center.

"We had a lot of fun. We started out with a meditation. We put the chair on a pedestal with candles. We drank some wine and had some hors d'oeuvres, and when we were good and ready, we got started," said Kindler. "As we were collaborating, you searched for things of yourself that you could put into a chair."

The pair decided that the theme of their chair would be mystery and surprise; the act of unveiling something, explained Kindler. "What we cover and what we reveal — I like playing with the whimsy of it," she said.

To that end, Evans and Kindler draped their chair with a cloth soaked in fiberglass resin. Then they covered and surrounded it with small figures that appear to be pondering the chair.

"Barbara was integral to the process," said Kindler. "It was real hands-on."

The artistic process was particularly laborious, according to both Evans and Kindler, due to the resin. Though this synthetic polymer is very durable and lightweight, "It's very hard to work with. It sets up like that," said Kindler, explaining that they had less than one minute to arrange the fabric before the resin became too stiff and hot to handle. The two, aided by Kindler's assistant, had to rehearse how they would lay the cloth over the chair. Then came weeks spent carefully scraping away the puddled resin from the base on which the chair would rest.

In spite of the challenges, both Kindler and Evans enjoyed the process immensely.

"We've had a ball doing this," said Kindler.

"We did a lot of giggling," Evans agreed.

Part of the reason they made such a cohesive team may be their backgrounds.

"There was huge cross-over," said Kindler, whose mother was an interior designer. "My family has been in the furniture business and I was in the furniture business for some time." Kindler designed furniture and had her own textile lines for years, prior to her success as a multidisciplinary artist. Evans for her part has a bachelor's degree in fine arts from the University of Washington. She moved to New York City and went into advertising instead of art, then returned to Seattle to open Hyde Evans Design in 1995.

The finished chair was due on Feb. 1. All 10 of the teams unveiled their chairs to the public on Feb. 12 during Seattle Design Center's Northwest Design Awards Gala.

"One of the things we were enjoying is [how] some of the artists and designers took it more toward art; some took it more toward design," said Kindler.

"Some of them are really reflective of the artist's work. Some are a collaboration and some worked separately," said Evans.

From functional chairs to pure art pieces, the 10 chairs are highly diverse in appearance. One was transformed into a "chair-delier" that hangs from a pole. Another was painted like a canvas. Others are swathed with gauzy fabric and have unexpected bits of sharp metal added to the frame, or have been carved into long-legged sculptures that would be hazardous to sit on. However, the majority still resemble furniture.

"I was surprised how many came back still looking like chairs," said Cross. "I was wondering if there would be any similarities [among the chairs]. I was thrilled to see that there isn't. They are all distinct."

"When you look at my work then at the chair, it's very identifiable," said Kindler.

"I wanted it to look like Judith's work," Evans emphasized.

Their cooperative partnership wasn't unique among the 10 teams.

"I theorized there would be some push and pull between artist and designer," said Cross. He was gratified that so many of the teams worked well together. "A lot of the groups have had a lot of fun with it. … It speaks volumes to what the collaboration was really all about."

Following the public presentation on Feb. 12, the chairs move to Nordstrom's window at 5th and Pine, where they will be displayed March 8 through April 5. The chairs will then be sent to McCaw Hall for six weeks. The chairs will be auctioned off in August.

"The grand thing about this whole [project] is when these chairs finally go to the auction, the proceeds go to Pratt, which is such a wonderful organization," said Kindler. Pratt is the only facility in the Northwest where beginning and established artists work side-by-side to create art using a wide range of media, including glass, metal, stone, wood and paint. Classes are offered at this 35-year-old nonprofit to over 3,500 students and its studios serve more than 500 working artists each year. Both Evans and Kindler have a special connection to the center: Evans' son took classes at Pratt and Kindler is on their board of trustees.

Though the work on the Chair Project may be done, it's still inspiring the participants. In the past, Kindler had created sculptural art featuring small figures and draped fabric hardened with resin, but "I had not done it to this scale. I found it so inspiring that I'm rolling out a whole new line of work."

"Design gets a little entrenched in its little bubble. We've got to break through the bubble into the wider world," Cross agreed, adding that Seattle Design Center is interested in undertaking this kind of project again. "It's a good, healthy direction to pursue. Now that we've flirted with getting out of our bubble, how do we keep it going?"